All of us here at Philip Morris and Son had a wonderful weekend at the Flavours of Herefordshire Food Festival – it was great to see so many people in Hereford. It was a two day, free event in aid of all things 'foodie' in and around Herefordshire, lots of home-grown produce, tremendous local support and a magnificent turn-out, overall a fantastic day out for all the family.
Using the Cathedral grounds this year was a stroke of genius; our historic Cathedral made a beautiful back drop to the flavoursome fun and brilliant buzz of the event!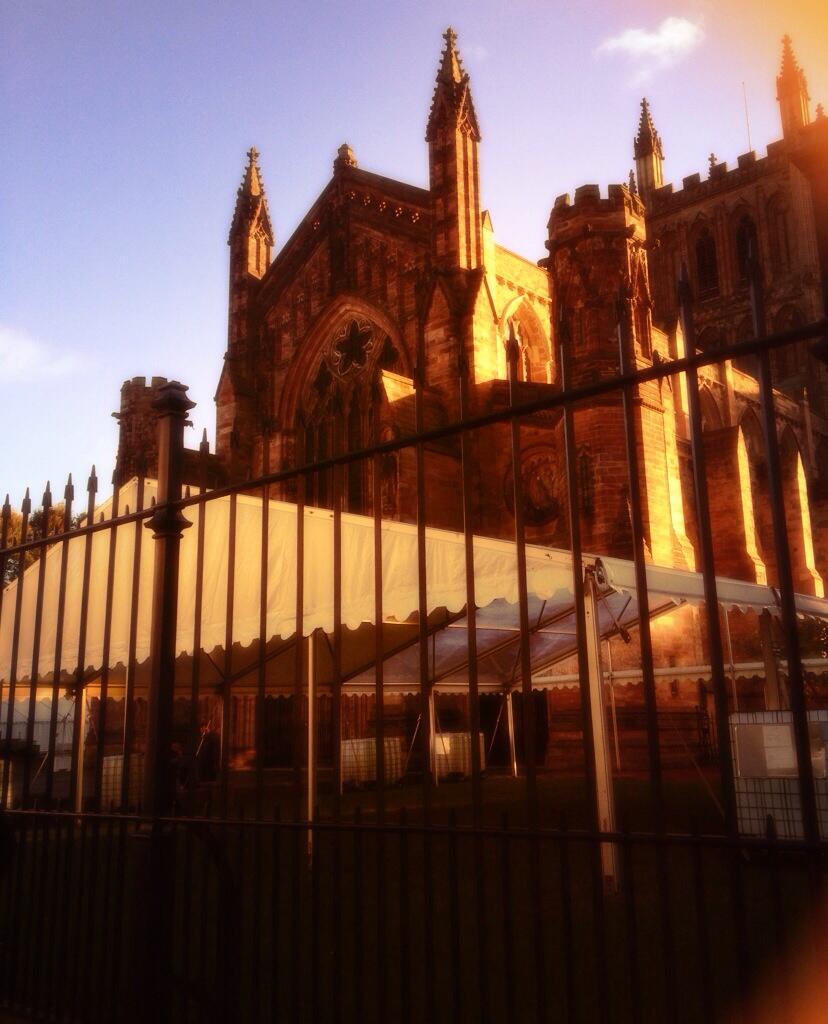 I must admit, all that was on the list of my purchases was some Damson gin and a lot of chocolate and cheese, oh well it's nearly Christmas, right?
We got stuck in to the Festival spirit and joined in with a bit of friendly competition to design the Best Dressed Window Display competition, the theme being 'Cherry Red'. We were so proud of ours, winning would really be the Cherry on top (we'll let you know as soon as we know!) Here's Lian adding the finishing touches:
 We were lucky that a lot of our products were relevant to the food aspect of the festival and so decided to create a little home scene! We were extremely resourceful and made a small kitchen (out of some boxes I must add) to display some ravishing red appliances, such as the couldn't-live-without Kitchen Aid:
We set up a cabinet displaying lots of lovely Le Creuset – which we had an offer on for the whole weekend, so that foodie fans could buy some great cookware to accompany the amazing ingredients and recipes they picked up at the festival!
Other items we included were some ever essential kitchen utensils and an Aga kettle. The dining table was finished with some simple but effective square T&G wooden tablemats, the wine and the cakes in the cake stand were both made by us – don't worry, no food was wasted, if you can't tell from the picture the cakes are knitted!
The fireplace was definitely tricky, but we did the best we could with what we had! We used Manor Fireside accessories to help authenticate the look and placed some red Hunter wellies either side, how cute are the baby ones?
Here is the finished project!
Overall the Food Festival was a great success; we were extremely busy and thoroughly enjoyed finally having some hustle and bustle in the City Centre of Hereford.
We already can't wait for next year, but how are they ever going to top Paul Hollywood? I'm hoping for Jamie Oliver or Gordon Ramsey… you never know!